We have read about an African tribe who know how to grow their hair to floor length. We've also read about the tribe from Chad with hip-length hair. Today, we will learn about a tribe that has mastered the act of moisturizing their hair to almost perfection. While most of us use branded leave-ins & conditioners to moisturize our hair, the Afar tribe of Ethiopia use a form of butter on their hair. They have mastered this act of moisturizing their hair such that their hair is kept protected from the harsh weather. The Afar tribe live along Ethiopia's northeastern border with Djibouti and Eritrea in the eastern part of Africa & are mostly nomads. Let's talk about the hair moisturizing lessons from this tribe.
hair moisturizing lessons from afar tribe
Source
The Afar tribe has two distinctive hairdos which they create using this ghee. The 'asdago' is very similar to what we know has the afro hairstyle while the second one is the 'dayta' which looks a lot like curlformers or straw curls. According to Dailymail, the curl is created using sticks.
Aside from using the butter to style their hair, the Afar tribe also uses it for the following reasons:
It protects their hair from the heat of the sun.
It keeps their hair shiny & moisturized
The Afar tribe believe that using the butter on their hair during wedding ceremonies is a way to invite blessings in their marriage. The brides older brother also spits on the bride's head as a sign of blessing too.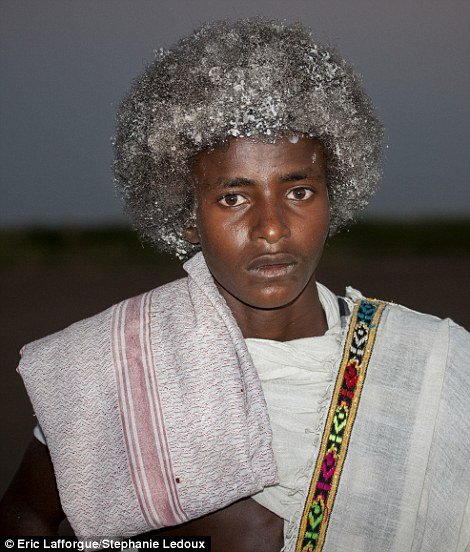 One thing to take away from this post is the importance of moisturizing your hair. You can see how healthy the strands of the Afar people are by them frequently moisturizing their hair.
Feature image: Photo Credit: Eric Lafforgue/Stephanie Ledoux