For many natural newbies, the word "regimen" is something they've heard repeatedly, but might not be clear what it exactly means for their hair care journeys. Many people think that it refers to the products you apply to the hair, while others might think it's a few actions done to the hair. This post will share information with you on how to create a simple natural hair regimen in 2023. Ready? Let's go!
What is natural hair regimen?
A regimen is a set of actions you do consistently to help you to achieve or sustain a goal. So we can say that a natural hair regimen is actions you do consistently to help you achieve your healthy hair goals.
Take, for example, if I wanted to learn a new language, I could plan a regimen to help me achieve this. A regimen can be to spend 15 minutes every day on a language app to learn this new language. Similarly, a natural hair regimen could be a set of actions you do weekly, biweekly, monthly or quarterly to your hair to keep it healthy.
What makes up a natural hair regimen in 2023?
Now that you know what a regimen is, let's talk about the main components of a natural hair regimen.
A. Shampooing:
This is one of the most important parts of a hair regimen. Just like our bodies, our hair gets dirty too and needs to be cleaned. Aside from the cleaning benefits that shampooing provides to the hair, it also helps to start the moisturizing process of your hair. Let me explain.
Natural hair loves water. Apply some water to your natural and see the way it softens up and becomes elastic. Compare this to when your hair is super dry & not moisturised.
Hence, when you shampoo your hair, you can get rid of the dirt on your scalp and hair & also start the moisturizing process.
How to add shampooing to your hair care regimen in 2023?
Choose your shampoo:
I prefer sulfate-free shampoos. I find that they are very mind on my scalp and hair. In the past when I used shampoos with sulfates, I discovered that my scalp gets too dry to the point of flaking. However, a few people who use shampoos with sulfates are fine with them. You can try both and select which works best for you.
Decide on how often to shampoo your hair:
I shampoo every 2 weeks because of my busy lifestyle, but I do it weekly as well if I'm able to. A few friends of mine that exercise regularly wash their hair more often than I do to get rid of the sweat on their scalps as a result of their workouts.
How to shampoo your hair
Once you have your shampoo and you're ready to wash your hair, here are a few tips I practice:
Apply the shampoo to your scalp.
Use your fingertips instead of your fingernails to wash your scalp.
Rather than scrub my hair, I'll let the soap lather glide through my strands as I rinse off the shampoo.
What type of shampoo should you use?
I prefer to use sulfate-free shampoos. This does not mean that shampoos that contain sulfates are bad. After trying various shampoos over the years, I realised that sulfate-free shampoos do not leave my hair feeling overly dried out. I also use clarifying shampoos whenever I went to my swimming classes. This helped to remove the chlorine from my hair.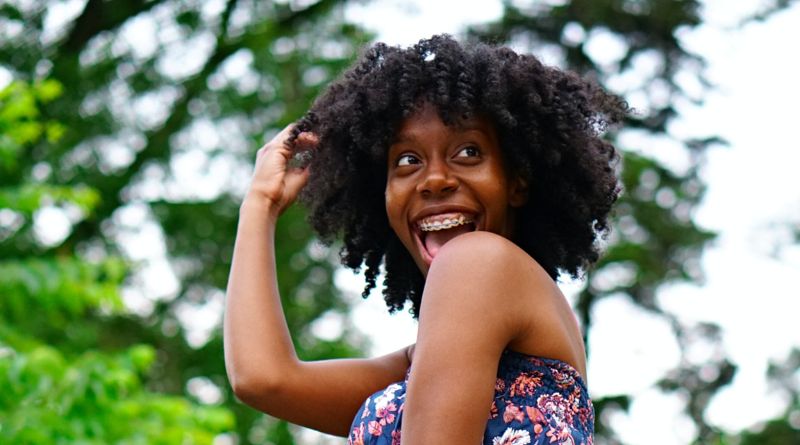 B. Conditioning
Conditioning is an action you take in your regimen after using your shampoo. This is one step I do not skip at all. Once I rinse out the shampoo from my hair, I would usually apply a conditioner.
A conditioner helps in the moisturising and detangling process. There are two types of conditioners that I prefer to use:
Moisturising conditioner – I use this on my weekly/biweekly wash days, especially whenever I notice that my hair feels very dry & brittle.
Deep Conditioner – I would use this if my hair feels very mushy or if I went for more than two weeks without washing my hair.
There's also a third type of conditioner called the leave-in conditioner. Unlike the first two, you do not rinse this one out. I no longer use this in my hair care regimen as I discovered it always weighed down my hair.
How to use a conditioner
Rub the conditioner between the palms
Apply to wet hair after shampooing
Detangle your hair while the conditioner is in it
Leave on the hair for the number of times stated on the product. Some will say 2 minutes, 5 minutes, etc
Rinse off
C. Styling
From Wash n Gos to twists and braids, there are so many styles to choose from when it comes to styling your natural hair. There are also a variety of styling products to choose from. When I can, I prefer to use alcohol-free styling products. In the past, I discovered that alcohol-based products dried out my hair and left flakes in my hair.
D. Trimming
The ends of the hair are the oldest part of the hair. They've been prone to wear. Use hair scissors when trimming your hair, not paper scissors.
Example of a natural hair regimen
Glad you made it this far in this post):. It's good to learn the basics of a hair regimen, they'll guide you in building yours. Below is my regimen. I tested a few things over the years in my natural hair journey before settling with this regimen.
Shampoo and condition hair bi-weekly or weekly.
Apply avocado oil to my hair while damp
Wear a protective style in twists. (Sometimes, I'll wear wigs on top of the twists).
Sleep in a satin bonnet every night
Trim every three-four months
That's it!
Tips for building a natural hair regimen
Now that you know the things that make up a natural hair regime, let's talk about a few helpful tips for creating your regimen
Consistency:
Truthfully speaking, this is one of the major things that makes up the "regimen" word in the phrase "hair regimen". You have to be consistent with the regimen you create. This does not mean that you will stick to a regimen if it doesn't help you in your hair goals. It means that once you identify what works, stick with it.
Detangling:
If this is not done properly, it can set you backwards on your hair care journey. As a rule of thumb, it's best to detangle your hair starting from the tips and then working your way to the roots. I prefer to detangle my hair during conditioning. I do this because the conditioner slips my hair and makes the detangling process easier.
Heat usage:
The use of heat on the hair is not entirely bad, what's important is how you use this heat. I use a heat protector on my hair before I apply any form of heat to it. I limit the use of direct heat from hair straighteners and blow dryers. Blow drying and flat-ironing are minimal for me. However, If I decide to do either, I will use a heat protector like the CHI 44 Iron guard.
Protective Styling:
A protective style is one you make to prevent your hair from being over-manipulated. Protective styles are also known as low-manipulation styles. An example is making twists with your natural hair. One thing t note is that your hair should not be neglected just because it's in a protective style. The main goal of a protective style is to keep you from having to style and manipulate your hair every day. With a protective style, you still have access to wash your scalp & hair even in the protective style so your hair isn't neglected.
Sleeping with a satin bonnet/pillowcase:
Versus cotton scarves, my hair strands do not get caught up in those tiny fabric holes you'd find in between cotton clothing when I wear satin bonnets. These bonnets also protect your hair from the excessive dryness caused by friction between your hair and moisture-absorbing materials such as cotton.
I'd love to hear from you! What's your current hair regimen like?